When:
23/09/2023 @ 6:30 pm – 8:00 pm
2023-09-23T18:30:00+01:00
2023-09-23T20:00:00+01:00
Where:
Goring Village Hall
B4009
Goring
Reading RG8 9AG

Cost:
£20 per adult – £5 per child / teen (8-16)
Contact:
Emma Horwill
07990-064812
A relaxing, candlelit Autumn Equinox 'Yoga & Sound Evening' to raise money for Goring Primary School
**Adults, teens and children over age 8 welcome**
Do you fancy some time out?
Would your child like to attend a yoga class, but they are too young for an adult class?
Do you wish you could find a bedtime routine to suit you and / or your family?
Do you wish you and / or your children would sleep better?
If it's yes to any of the above, then come along for a relaxing evening to supporting your wellbeing and all for a great cause!
We will go through a series of gentle yoga flows to aid sleep, calming breaths and end with a sound bath, candle light (LED) and snuggled under a blanket; relaxed, invigorated, or just ready to head to bed for a good night's sleep!
………………..
Are you thinking 'what is sound therapy?'
It is an ancient therapy. The science behind it is simply that the sound waves, vibrations, travel through our bodies, healing different areas, perhaps clearing blockages.
Here's a link which explains Sound Therapy and its history really well – https://blog.mindvalley.com/sound-healing/
If you have any more questions, or would like to book on to this special evening, please get in touch!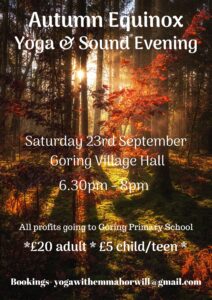 𝐈𝐦𝐩𝐨𝐫𝐭𝐚𝐧𝐭 𝐒𝐨𝐮𝐧𝐝 𝐁𝐚𝐭𝐡 𝐈𝐧𝐟𝐨𝐫𝐦𝐚𝐭𝐢𝐨𝐧 –
** Not suitable during pregnancy.
** Please let me know if you have any of the following as caution should be taken : epilepsy, tinnitus, Ménière's disease or any condition which is sound sensitive or could be triggered by sound.
** Not recommended if you have a pacemaker or other metal implants or a serious mental health condition.
Please message me If you have any queries about the suitability of a sound bath.
………………..
**Please note that as this is an early evening session, discretion is totally yours, as to what age child you bring along, although I would personally recommend aged 8+ **
………………..
To book on please email for bank details to make an investment of £20 per adult – £5 per child / teen (8-16).
Payment must be made at time of booking to secure your place on the mat and the hall booking.
(All profits going to Goring Primary School)
………………..
Booking Policy & Cancellation Policy– https://yogawithemma.org.uk/faqspolicies/
………………..
Bookings or further questions please do email me –
𝐲𝐨𝐠𝐚𝐰𝐢𝐭𝐡𝐞𝐦𝐦𝐚𝐡𝐨𝐫𝐰𝐢𝐥𝐥@𝐠𝐦𝐚𝐢𝐥.𝐜𝐨𝐦