When:
19/11/2022 – 06/01/2023
all-day
2022-11-19T00:00:00+00:00
2023-01-07T00:00:00+00:00
Where:
Basildon Park
Lower Basildon
Cost:
Normal entrance fee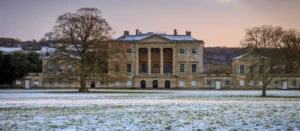 Basildon Park cordially invites you to a fantastical winter ball. Immerse yourself in luxurious floral bouquets and dazzling Christmas lights. With the entrance hall bedecked with peacock feather decorations, hanging bird cages and extravagant floral arrangements, it's sure to be a glamorous affair. The dining room is transformed into a ballroom and visitors can decorate their own masquerade mask and dance around the champagne glass tower. Children are very welcome and there's an activity trail for them to burn off some energy in the woodland.
Soak up the opulence of Basildon Park this Christmas. Immerse yourself in the glamour of champagne receptions and dance in our dazzling ballroom.
This season at Basildon Park, join us for a day of festive glamour. Anticipate the excitement of clocks striking midnight, create your own masquerade face mask and dance in the ballroom. Keep an eye on the 'what's on' section of the website to book onto wreath making classes.
'Christmas at Basildon Park: A Winter Ball' runs from 19 Nov - 6 Jan (property closed on 24 & 25 Dec). Please check our website homepage for our opening times. Please note that the winter ball is an ongoing display at Basildon Park, rather than a bookable event.
-